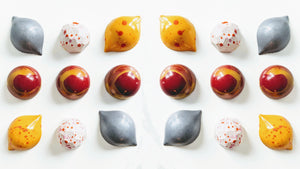 With Love.
Diamonds are a girl's best friend... but chocolate is her soulmate.
Embark on a sensory experience with your very own collection of artisanal handmade edible gemstones. Each jewel is exquisitely crafted and designed with care.
Rhea Artisan Chocolate is created using premium Belgian, sustainably sourced couverture. Encased within each delicate gemstone is a mélange of Modern and Classic flavour profiles.
Her Story
As much as I love dinner parties and hosting guests, I've never been much of a chef (my husband on the other hand is an amazing cook). The thought of dinner prep has always given me anxiety. What do I make? How many courses should I plan for? What is the theme? There's a sense of pressure that admittedly is of my own doing, to make the evening absolutely perfect. So, why do I continue to do it? (pre-pandemic of course)
Despite the overwhelming feeling to perform, I love creating experiences. When friends and family come over, I want the evening to be a lasting memory. I plan every detail to align with a theme; from the ingredients in the tapas and main course to the dessert, the wine selection and even the music. If pasta is on the menu, I want you to feel the essence of Italy in every way.
My forté is hands down – DESSERT! It's fitting, since dessert usually wraps up the evening. This means I put additional care into creating the perfect finishing touch on your experience.
Naturally, when I discovered the art of chocolate making I wanted to bring that same experience to you, my customer, my friend. When you order a Collection from Rhea Artisan Chocolate, you are receiving carefully curated edible jewels, handmade in small batches, using traditional tempering techniques. I quality control each batch to ensure what you receive is something that I would eat myself. Since I want the experience to be ever-evolving, each Collection is only available for a limited time. This means I'm always creating and you get a fresh take on my products!
If you'd like to learn more about me, my creations, and my business – Follow me on Facebook & Instagram @Rhea_Artisan_Chocolate.